An app designed to earn you
more money
Give yourself a
Wealth Boost™
ATM's new Wealth Boost™ service allows you to earn cash based on your personal data. Using it, you can save and invest your money into our intelligent list of stocks and ETFs. You could also add funds to boost your portfolio. There are both active and passive earning opportunities including rewards and cash back. Simply put, there's a lot of money to be made using our app.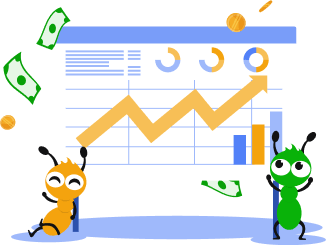 Testimonials
Great App!
It's a great app that allows you to earn a small amount of passive income and you can even invest that earned money in the market. Lets grow this together! 🐜💪💯
- John F
Love the ant colony
I love being part of the ant colony, it save a little extra cash for small items that you might need like toiletries and showering.
- Lorren W
A lot of opportunities
There are so many opportunities to earn money from engaging with their partners and some of the rewards are very generous.
- Luke S
This is the best app
I've tried several different apps and services that pay incentives for accepting brand offers, ATM is by far the best.
- Angela F
I love ATM
I love what ATM is trying to do here; and I'm excited to see where we end up!
- Devin W
Educational
It's a great app! It really break things down so you can understand and it goes in depth on what you should do. So I'm my opinon just give it a shot cuz you only live once.
- Jared T
Actually good app
I earn about $1.50 a week. Sure, it doesn't sound like a lot, but it adds up, and I get introduced to new brands, and the layout is user-friendly, what's not to like? It's very easy and fun.
- Sarah S
Easy to use
I'm very happy with the app. I've been using it for about 4 months & made a bit over $43.00. I'm just letting it accumulate for now. I think it's the easiest app to make money I've come across.
- Candace L
Join the Ant Colony!
Earn extra cash, save, & invest